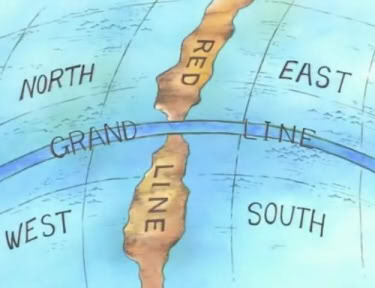 The Grand Line is the ocean current that is surrounded by the Calm Belts and follows an imaginary line that runs from north-west to south-east across the middle of the world and perpendicular to the Red Line. The Red Line is a vast continent that circles the globe from north-east to south-west. These two lines divide the rest of the Blue Sea into the Blues: North Blue, East Blue, West Blue, and South Blue.
This stretch of ocean is said to be the most dangerous place in the world, and is commonly referred to as the Pirates' Graveyard by people from the four Blues because of this reputation. Those few pirate crews that make it to the second half of the Grand Line, known as "the New World", refer to the first half as "Paradise", showing it is all relative. Most believe that it is impossible to safely leave the Grand Line save at its beginning and end. However, the World Government regularly sends ships across the Calm Belts by coating their hulls with Seastone, rendering them invisible to the Sea Kings. The Grand Line is placed similarly to the equator.
Despite the reputation of the Grand Line being dangerous and chaotic, many normal people manage a living on individual islands regardless, having adapted to their home land. This indicates that it is actually traveling within the Line itself that is dangerous, as it virtually guarantees facing unpredictable climates and dangerous wildlife. However, there are also several islands, or portions of the islands, which are considered dangerous in their own right, and thus, they are either uninhabited or the citizens have taken precaution to the threat.
Trending pages
All items (4)