General Info
Edit
Quest
Boss
Difficulty
Conditions
Notable Captures/Drops

Summer Paradise! Half-Bloomed




Rookie

N/A




Summer Paradise! Full Bloom




Elite

N/A

Summer Paradise! Cien Fleurs




Master

N/A
Difficulty/Stamina

Battles

Experience

Beli

Title

Rookie

10

5

1070

7298

-

Elite

20

7

3230

17647

-

Master

30

7

5900

33074

Sexy
1 Rainbow Gem will be received upon full clear of all difficulty levels.
Limited-Time Event.
The higher the difficulty level, the higher the chance you'll have of getting Robin poster to drop.
There are no manuals in this event.
Since the 2017 edition (on global) Swimsuit Luffy can appear in the secret stage.
Drop rates
Edit
How to Beat Swimsuit Robin
Edit
General Information
Edit
This fortnight is reported to be difficult, and it is particularly if you are not higher leveled in your units (60+). However, with just two 1,000+ hitter you can clear this quite easily with the proper team design. The most important thing to consider is can you bring a unit with a 9-10 cooldown to handle stage 4 and 7? If so, it's a cakewalk! Otherwise, you'll want to consider taking a hit or two on stages 2 or 3 to build up a special to help take these stages out.
Other notes:
green giant on Stage 2 will despair your captain for <4 turns on turn two (verify how long, anti-despair 3 nullifies it)
stage 4: you will get blinded for 9 turns. Good stage for time delayer
Recommended Captains
Edit
Recommended Support Units
Edit
Mr. 3 Extra Special Candelabra or Roronoa Zoro Jack the Ripper: A one turn staller works great for stage 4 and 7 if you have any issues pushing out those units!
Usopp Usopp Golden Pound: The king continues his reign! Bring him and a 1 turn guy if you need more help.
Note:Don't bring any orb boosters! Nico Robin will give you a paltry orb boost which you cannot override. So orb boosters won't help out your team.
Recommended Teams
Edit
Free to Play Slasher Team
Captain
Subs
Friend
Ship
Requirements

Coffin Boat MAX
High levelled characters
Stall as much as possible
INT Crusher Team
Captain
Subs
Friend
Ship
Requirements

Thousand Sunny MAX
High levelled characters
Stall as much as possible
30 Stamina Walkthrough
Edit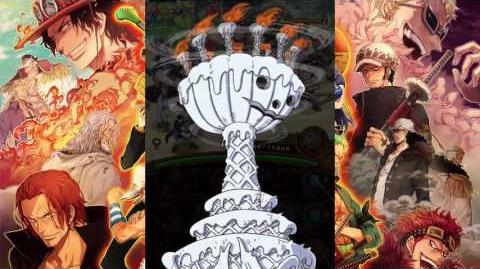 Slasher Team and other teams that can use those subs
Stage 1: Stall
Stage 2: Stall
Stage 3: Mr. 3
Stage 4: Usopp + High Defense Killer
Stage 5: Stall
Stage 6: Mr. 3
Stage 7: Usopp + any specials.
Team Builder Helper
Edit
INT Characters who boost attack
INT Characters who delay time
INT Characters who are slashers